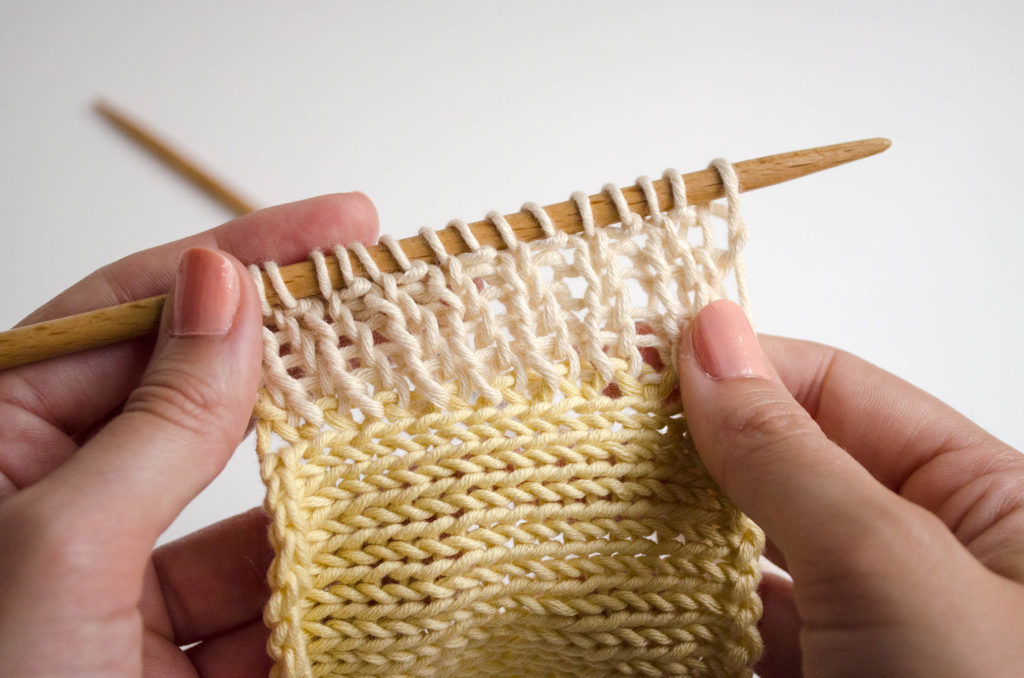 In today's post, we want to teach you another way to pick up stitches in your work and knit a border worked in the direction that you like. You can use this technique to add detail to any garment, or if you need enlarge a sweater or another project. That way you won't have to undo it!
Also, if you change the type of stitch in the border, you will get a very original and unique result 😉

PICK UP STITCHES TO KNIT A BORDER IN THE SAME DIRECTION
We will use this method to add a border to our project that will go in the same direction as the stitches we have already knitted. It's used to add a button band to a jacket for example.
In the example, we have knit the new border in garter stitch onto a piece knitted in stockinette.
1.Cast on the stitches that you want for your border onto one of the wooden needles. Work the first row in the usual way until there is one stitch remaining. Slip the stitch to right needle without knitting it, and use the free needle to pick up the border stitches on the piece. Pick up 1 stitch for every 2 rows. Return the slipped stitch to the left-hand needle without knitting it.
2.Now, knit the two stitches together (the last stitch and the stitch picked up from the border). That way our border will be joined to the work.
3.Work the next row in the normal way.
Repeat the previous steps, knitting together the last stich on your needle and the border stitch every other row until you have reached the desired length.
PICK UP STITCHES TO KNIT A BORDER IN A DIFFERENT DIRECTION
Just like the one before, this method allows us to add a border, but it will be knit in a different direction than the piece already knitted. We can use it to extend garments and to mix different types of yarn into a project.
1.Pick up the desired stitches using one of the needles along the entire side border.
2.Now knit the picked-up stitches with a new strand, just as you would normally do.
On which projects will you use this technique? You can leave us a comment or share your project with us using the hashtag #weareknitters.