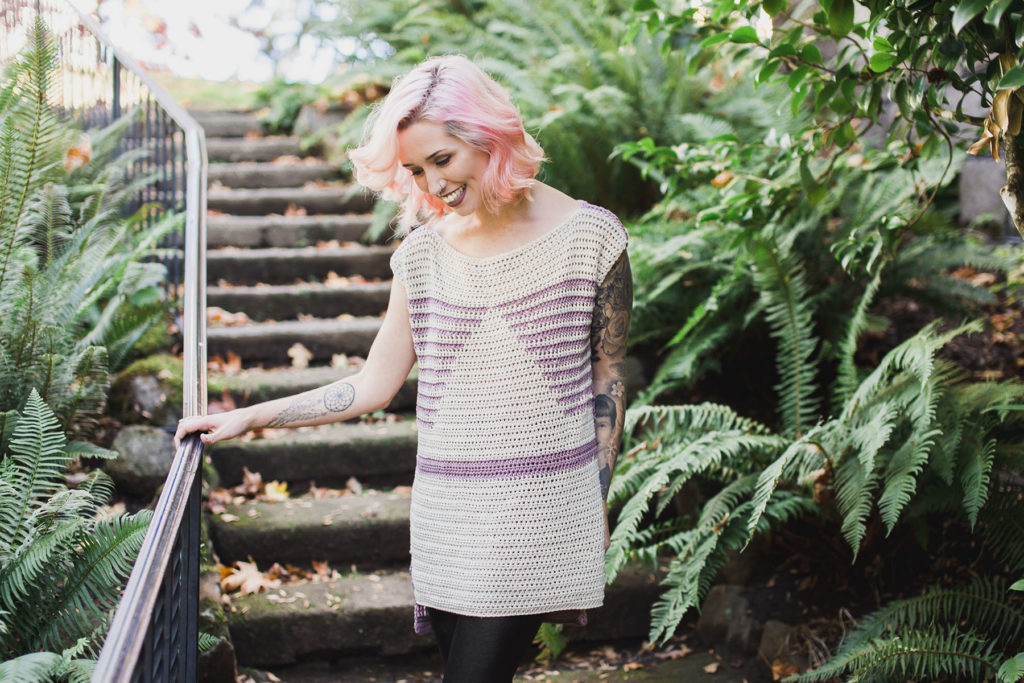 Who are you, Jessica aka Hook Nook?
Goodness. Now THAT is an open-ended question! Let's see, I am a mother to two kiddos, and a wife to an absolutely incredible tattoo artist. I love coffee, red wine, cupcakes, staying home all day in my pajamas, playing with ALL the yarn, and shopping. I really, really, REALLY like clothes. Maybe that's why I love making garments! I have enjoyed crafts my entire life, however, I didn't learn to crochet until 2011 when we had our first child. Teaching myself via YouTube videos may have taken a while, but I absolutely loved it! Fast forward seven years to today, and I am so absolutely glad I continued to test and challenge myself. This craft has literally changed my life!
What motivated you to create The Hook Nook?
As I was learning how to crochet, I would post photos of my projects on Facebook to share with friends and family. As I grew in my skill, I began receiving orders for me to make things for others. Seeing continual orders come in, I decided to open a "real" business to keep things a little more organized and professional. A few months after having the Facebook page, I decided to open an Etsy shop to sell my finished products. I absolutely loved being able to share my makes with others, and having a sense of worth! After a couple years of selling finished pieces, I decided to dabble in pattern design and REALLY loved that. I was never really one to follow patterns, unless I had to. I love going "rogue" and making things up as I go, even changing designs in the middle of creating the sample. I love customizing each and every single detail of a project to really make it unique, original and a representation of me. As of January 2016, I decided to no longer sell finished pieces and solely focus on pattern design. Being able to make each thing once (or however many times it took to get the final design) was so wonderful because it freed up time to make even more new pieces.
What makes you so passionate about crochet?
Well, this is quite an emotionally-fueled thing for me. Growing up, I had many dark and difficult moments. Feeling encouraged, empowered, worthy and proud weren't really common feelings I experienced. Once I saw myself understanding crochet more and more after teaching myself, it really empowered me. I had this feeling of "I can do anything I set my mind to. I CAN do things." Being able to finish projects, share them with others, share my work online, being SEEN as someone who had talent and worth… These are things that truly fueled me. I, finally, began to believe in myself. The more I practiced, the harder I worked, the more I pushed myself to be better, I tangibly saw growth in not only my skill, but my own inner worth. After living a life basing my self worth on other people's opinions, being able to believe in myself for once was SO incredible. Fast forward to today, I have managed to turn this humble beginning journey and turn it into an internationally known brand, all because I chose to keep working hard, doing what made me happy and proud of myself, and never giving up during the hard times. I'm passionate for crochet solely because it was one of the instruments that brought me out of my darkness, and into a life where I could look myself in the mirror and know that I am enough. What an amazing gift that is.
Why did you decide to collaborate with WAK?
…who WOULDN'T collaborate with WAK?! Ha! Gosh, having this opportunity to partner with such an amazing company I have had the pleasure to create a relationship with over the past couple years is probably one of my most proud moments. Working with a brand like WAK on a kit collection is a literal dream come true. With WAK yarns being some of my all time favorite products, I was elated to have the chance to partner and create some serious fun and trendy designs using the cotton! This opportunity will forever be something that will be incredibly special to me. Opening up crochet to the world in such a big way to be seen as more than a "grandma" craft is AMAZING. As beautiful and well known knitting is to everyone, crochet still has a more "traditional" stigma, and being able to at least begin to change the way people view this amazing craft, is absolutely exhilarating.
What was your inspiration behind your designs?
My inspiration behind this collection was wanting to create things that paired well with spring here in the Pacific Northwest of the US. We have chilly, yet beautiful, weather but are blessed with some warm days here and there. Being able to also incorporate different textures and details to make the designs feminine yet edgy was important as well. I loved exploring different stitches and patterns and shapes. The pima cotton yarn allows for such beautiful drape and made it easy to create such pretty pieces! I may have originated each design to be something different prior to beginning, but, again, going "rogue" is common practice and really allows for great end results!
What is the role of social media for your brand? Do you think you have a highly engaged community of crocheters/makers?
First off, I wouldn't have a career without social media. Instagram has played a HUGE role in my growth and being able to connect with brands, Makers, and other opportunities. Social media has been the biggest piece of my puzzle in terms of growing my brand and business. The community I have surrounding me is nothing short of absolutely incredible. I have never felt so supported, encouraged nor motivated. I've recently worked with a good handful of others to create a new blog platform sharing Makers and their stories, patterns, inspiration, words of wisdom, etc and, in doing this, I've seen even more talent, engagement and support. People want to feel included, they want to feel like they belong. We all do. After experiencing a lack of this feeling but then finding it over the last few years, I wanted others to find it also. If I was able to offer this feeling by simply sharing the work of those in our community, it's created this amazing result. The engagement may not be the typical "likes", "comments", or "follows" (though those are still apparent), but now I am seeing more engagement found in the relationships of those around me. Connecting others with people they may not have otherwise discovered, and seeing new collaborations and partnerships and dreams coming true, it's just wonderful. Social media can be used for such positive gain for everyone involved when you choose to share love and transparency. I'm so beyond grateful for everyone in this community!