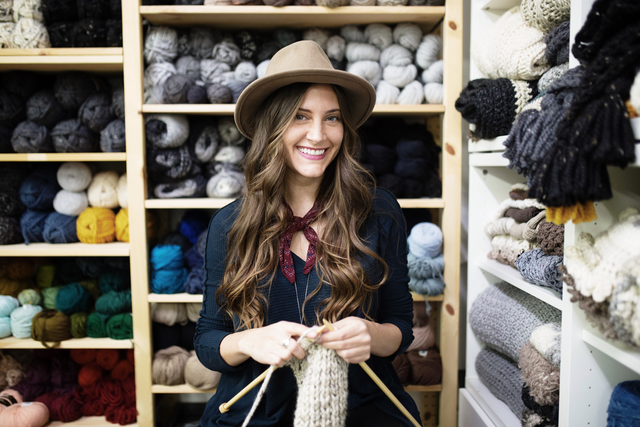 BACKGROUND
Define yourself in 4 sentences

Hailing originally from the midwest, I'm a New York City based knitwear designer with a passion for modern, fashionable DIY knits. I love to travel and expand my brain, and if I could do one thing for the rest of my life besides working with yarn, I'd choose to be a perpetual student so I could spend my days learning everything and anything. My inspiration comes from travel, trends, and function, and I typically start a design with a feeling I want to evoke. I feel so lucky to be a full-time designer bringing my ideas to life – there's nothing better than providing someone with the ability to create something they are proud of and can enjoy themselves or give to a loved one.

When, how and why did you learn to knit?

My mom and grandma taught me to knit as a child. I love giving handmade gifts, and inevitably every year around the holidays they would have to show me how to cast on and bind off again, haha. Eventually it stuck, and I started getting serious about my knitting and designing my own pieces in 2008. I then taught myself how to crochet in 2012.

Knit or crochet? Why?

I think it depends on the project! I love knitting for the drape and stitches that stack on top of each other to create incredible colorwork and intricate designs. I'm also a more seasoned knitter than I am a crocheter, so it's usually where my brain goes first. But I love the speed of crochet and the denseness and durability for bags and home dec. Creating shapes is often easier with crochet as well, so it can lead to some really fun out-of-the-box designs.

Where do you live?

I am currently bouncing back and forth between NYC and Upstate NY near Woodstock.
COLLECTION
Which one is your favourite piece of your collection for We Are Knitters?

That is a really tough decision but I think I will have to go with the Washed Ashore Sweater. I truly love all of the pieces, because I designed them to items I would wear myself. The Washed Ashore Sweater just came out better than I could have imagined! It's so easy to make, and the silhouette is all at once simple and dramatic. It's so easy to wear and just toss on, but its unique shape makes it interesting and refreshing. I love that it is quick to work up because it's crochet, but the faux drop stitches made with chain spaces make it drapey and airy, which can be tough to achieve with crochet. And lastly, the softness of the WAK Cotton yarn makes it so effortlessly cool and comfortable! 🙂

What was your inspiration to create this collection?

One of my favorite places on Earth is Tulum, Mexico. It's become a super popular tourist destination, but I first visited over a decade ago before it was a hot spot. I love the pristine beaches right next to the rustic jungle, and I wanted to capture this blend of elegance and wildness in the collection.

Did you like We Are Knitters' Pima Cotton? Why?

How can you not!? It's the softest cotton I've ever worked with and it comes in the most gorgeous colors! Cotton can often be rough on the hands, especially when crocheting, and this exceeded all of my expectations.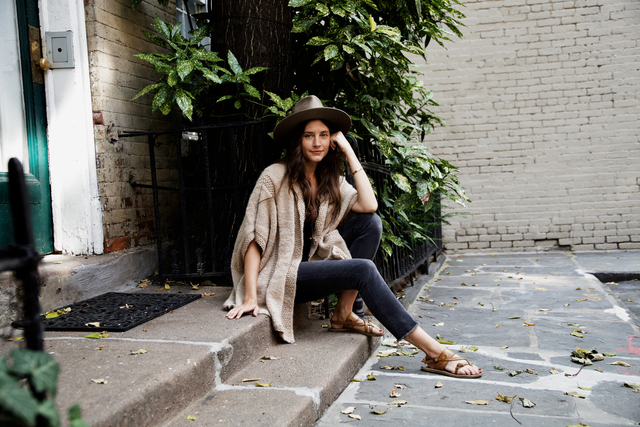 WE ARE KNITTERS
How did you know We Are Knitters?

I've known about WAK for many years now as they are leaders in making yarn crafts modern and fashion-forward, but I really got to know them when they sponsored the first Our Maker Life event in NYC where I was a keynote speaker.

What is your favourite thing about We Are Knitters?

I love the modern, fresh take on knitting and crocheting that WAK showcases. They have beautiful quality yarns and fashionable designs that help introduce these timeless crafts to a younger audience. The health/mental benefits that come with yarn crafts are so important in today's world of fast fashion and highly stressful daily life.

Why did you decide to collaborate with us?

I'm so excited to collab with a like-minded company for all of the above reasons! I've been able to meet Pepita and Alberto and their team in person, and it's wonderful to work with such lovely humans behind the brand as well. I think our audiences have a lot of crossover but it will be fun to introduce all of our followers to each other 🙂

Any plans for the future?

I have so many ideas for designs, there just aren't enough hours in the day! I would love to continue to expand my women's and home patterns, and to introduce more men's focused designs in the future. I have some book ideas and some social initiatives I'd love to flesh out as well. I just need to figure out how to use my toes to knit to maximize the time, haha.