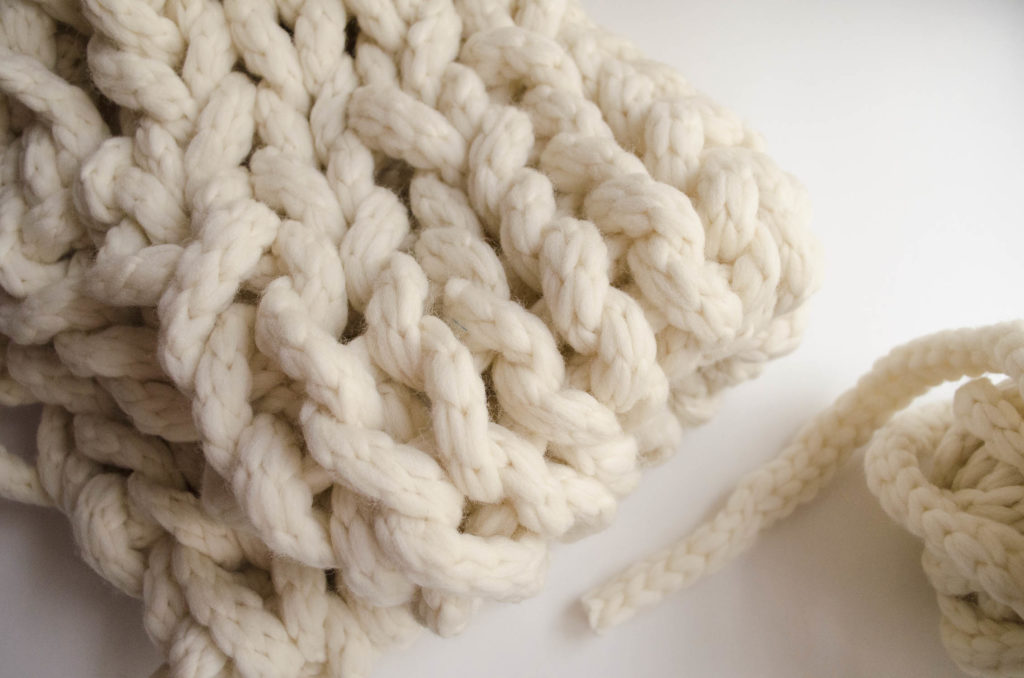 A while back we showed you that knitting is possible without needles, using our body  with finger knitting, and today we're back with another surprising method: arm knitting, using our arms and fingers as if they were knitting needles.
Arm knitting is lots of fun, and the best part, fast, so you can knit a project in a couple of hours and wear it the same day. In fact, with our video tutorial you can make a snood in an hour, amazing, right?
In the video we show you how to cast on, knit stockinette stitch, and cast off. All you need is a couple of skeins of our super chunky yarn in your favorite color and your arms 😉
MATERIAL NEEDES TO MAKE A SNOOD WITH THE ARM KNITTING TECHNIQUE
– 2 skeins of The Wool. We used the color sand, but this snood would look great in any of our available colors.
– Scissors
– Your arms, of course!
INSTRUCTIONS
Hold a strand of yarn from each skein together to knit them as if they were one strand, you can see our advice on how to do this, or try using two diferent colors here.
Cast on a minimum of 12 stitches onto your right arm. Now work every row as shown in the video, until you have about 32 inches of yarn left. Cast off all stitches. Turn the scarf over (with right sides together) and sew the two ends together using the left over yarn tail. Last, but not least, weave in the end and cut the yarn even with the fabric.
As you can see this snood is really warm and long enough to twist and double up without any problems. If you want to make it shorter or longer just decrease or increase the number of rows worked, but using the 2 skeins it should turn out just the right length. Bring on the cold!
We'd love to see your snood or other projects made with arm knitting, so don't be shy and share your projects with us using the hashtag #weareknitters on social networks.