1.Your work is full of energy and depth, you create a certain closeness between the picture and the spectators, transporting them to the place where the picture is made. What were your influences to reach this point in your career?
I think photography is a kind of extension of the thoughts and the interior world of the photographer through his or her camera. What we see gives many clues about the personality of whom has made said picture.
I like to find beauty in any place, model, character or landscape, and take away something deep and sincere out of everyday life because that is what inspires me. To build timeless and real images with a certain romanticism is something that obsesses me, and I believe that connects people. I like to observe life without too much embellishments. I'm not interested in fashion because of fashion or portraits without some truth in it. I enjoy watching that in others or in a museum, but in me there's not much fantasy or extravagance, so to speak. Roughly, I like portraying life just as I see it and feel it. My influences are everywhere: the light, the music (specially jazz), people in the street, motion pictures (very much), the silence and warmth of my country house in Jaén midsummer, travel by train, go to the market! To observe in general, and being aware of what happens in the world, despite sometimes it's so exhausting.
2.If you had to define yourself, which would be your biggest feature?
I think I am an austere photographer. I like simplicity in a picture, when with very little you get a narrative image. I run away from excess and embellishments unless it's presented in a natural way. When you get used to work without help, without expensive materials and no budget, you make yourself simplify everything and at the end, I think that has become an identity label in itself.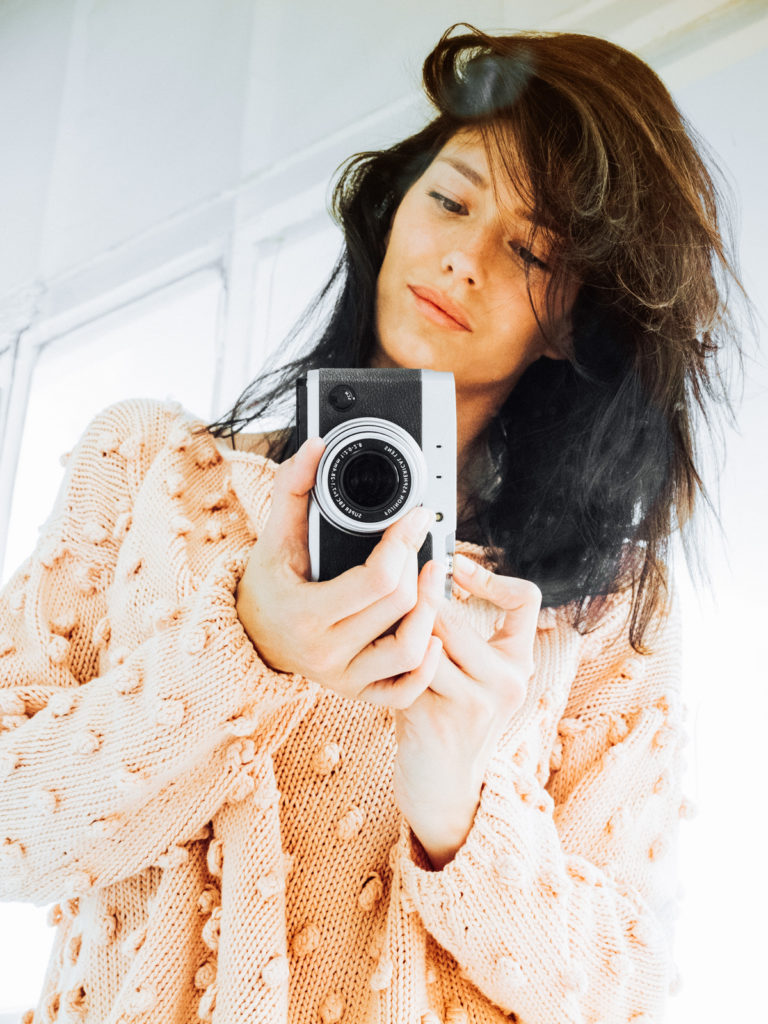 3.You have portrayed many famous faces in this country and beyond. Which has been your tactic to make them feel comfortable with the objective and getting the best of them?
To talk. I talk non-stop! Or quite the opposite, I love playing with the silence and wait to see something that surprises me to capture it, those are the best pictures. That little something you are not expecting and then captivates you… I love it. I faithfully believe in improvisation. It seems fun and sincere to me, but not always happens because off a thousand reasons, and if the ice needs to be broken, I play some music to control the situation, et voila! Depending if I want a fun or an intimate picture, I'd play one or other playlist. I have more than a hundred custom playlists with such psychology, and created in order to recreate very different atmospheres!
4.Your relationship with WAK has been long-lasted. What was your first impression when you met us?
And I hope it lasts much longer! We have worked together from our beginnings, and I believe it's because of the connection between the two of us. We coincide in our taste for comfortable and simple clothes. My first impression when meeting up with WAK was that I wanted absolutely everything you had in the EGO market stand, on the Cibeles runway. I remember it perfectly! Actually, one of the wool hats in chocolate and pink is one of my  winter favorites and must-haves, along with that military green one with a very Californian style!! I'm crazy about your folk-vibe garments that match my style so well.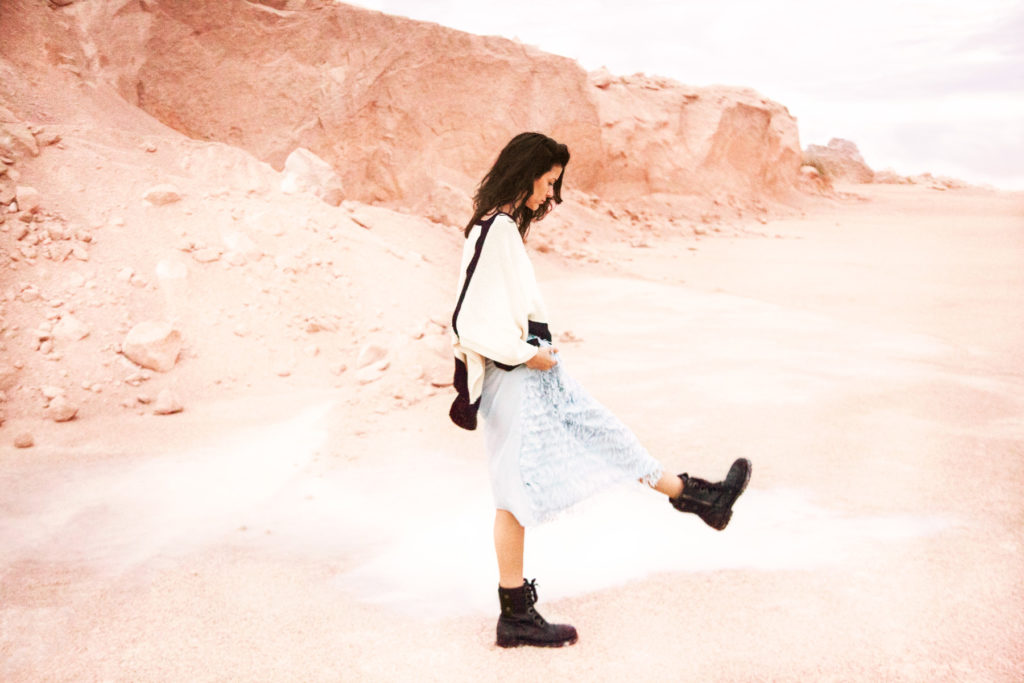 5.This year, WAK proposed to you a different project: for you to be the one in the pictures with out garments this season. Tell us what the experience has been like, and which has been your favorite garment.
The experience has been fun and experimental. I have never done it before and it was a tempting challenge as an artist.
Since I didn't want to play to be a model, I thought that looking at me through the reflect would be a good idea. That would allow me to change the scenery. During the week I wore the garments, and always carried a mirror with me. It's me a 100%. At home, while working, while traveling…
It's getting more and more common to see campaigns starred by women who don't fit this ideal model picture we have in our minds, but do present a lifestyle that may work as an inspiration for many other women, or even designers.
And even without stop counting with our fabulous professional models for these kind of jobs, I think it's a very interesting initiative to mix different women profiles: different ages, races, professions or bodies. We live in a time of maximum visual consumption, and sometimes only working with a determinate kind of model makes you fall short. That's the world, isn't it?
My favorite of this collection? Specially the BLANCA JULEP TEE.
6.Being such a dynamic and transversal woman, have you ever been tempted to knit your own garments?
Off course, besides I love to give a personal touch to my style. Although knitting is a different level… Sometimes this crazy life rhythm makes routines and the things that need time get a little disperse, and you don't really get to be constant in anything. And I'm also super nervous. But I have put myself to it, and I'm gonna do it. This summer I'm making a LANUX BASKEY in blue, which I've checked on your website. I love it and it looks super fresh.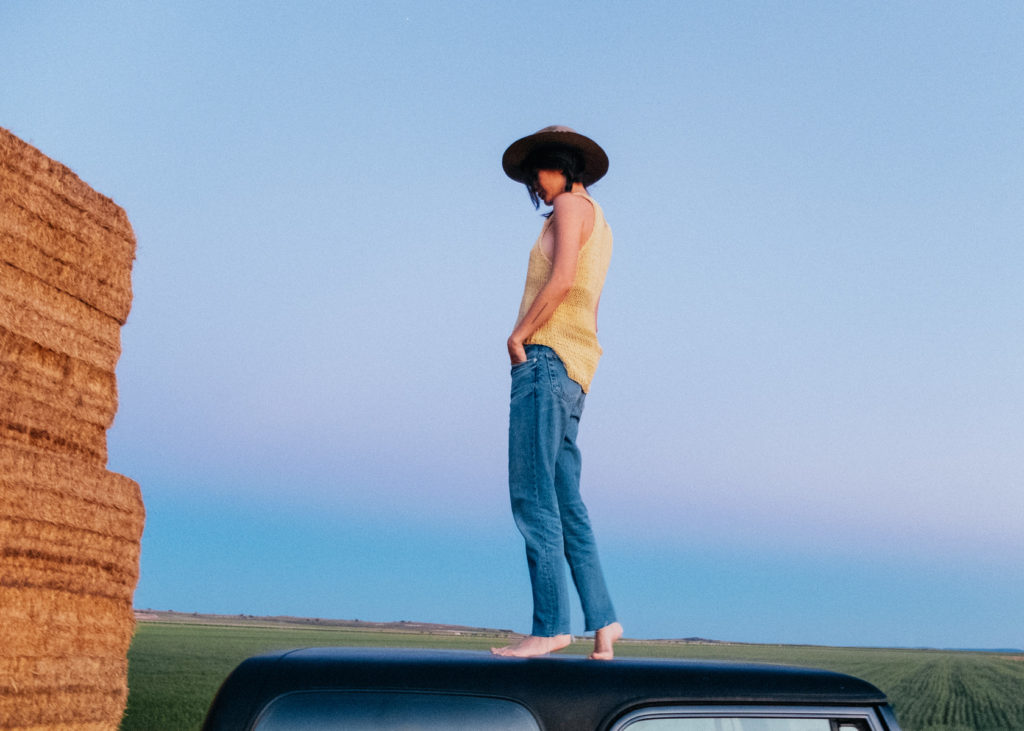 7.You have a few garments: a cotton poncho, a swimming suit and espadrilles. What place would you choose to create the perfect picture?
It sounds so good I think any place would be perfect… But the first thing on my mind is a Mehari and Lanzarote, Spain!
8.To wrap this up, do you consider that with a picture you can get to know a person?
Definitely yes, you get to have a lot of information about his or her personality and you can tie together many details. It's hard to cover too much the photographer's view, although it is also hard to read an image, you need sensitivity and intuition.